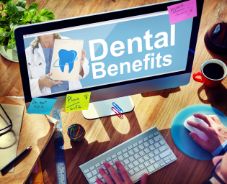 If you're a person who hates losing money (and who doesn't?), here's a statistic from The American Dental Association that may interest you: The average dental insurance benefit is $1,250 per year, but most people only use around $300. That means missing out on $900 that could otherwise be used to improve your oral health! The good news? There's still time to do something about it before your plan expires. This year, don't waste your dental benefits. Learn more below about what dental plans cover and how to take advantage of your insurance. With this information, you'll have a healthier smile and a happier wallet!
What Does Dental Insurance Cover?
Every plan is different, so it's important to check your individual benefits. That said, here's how various services are commonly covered:
Preventive care – Checkups, cleanings, and X-rays are often covered at 80%-100%. In some cases, sealants and fluoride treatments are also covered but may come with age restrictions.
Basic restorative – Basic dental work like dental fillings are typically covered at 80%.
Major restorative – More extensive procedures like dental crowns and bridges are often covered at 50%.
As you can see, dental insurance makes it very easy and affordable to get preventive care. Since it costs you little to nothing, everyone should be scheduling regular checkups and cleanings. It's not only financially wise, but also crucial for helping you avoid cavities, gum disease, and painful emergencies like toothaches.
Schedule Now To Avoid Losing Your Benefits
One of the biggest reasons people lose their benefits is simply not scheduling their appointments before their plan expires (which usually happens on December 31st). Remember, the unused money from your plan doesn't roll over, so you either use it – or lose it! And, although 2019 is almost over, you still have time to schedule a visit. In the event that you need additional treatment, you'll have time to get it done affordably with this year's benefits.
Keep in mind, since the average annual maximum (the amount your plan will pay for dental work for the year) is between $700 and $1,500, there's a substantial amount of money you can use for dental work. But only if you schedule in time.
If you want to step into the new year with a healthy, beautiful smile, use your insurance plan to the fullest. It's the best way to get the dental care you need, without breaking the bank!
About the Author
Dr. Jodi B. Meadvin is in-network with Delta Dental, but her team is happy to file claims for patients with almost any type of PPO plan. They always work hard to reduce out of pocket costs and help their patients maximize their benefits. If you'd like to know how to take advantage of your insurance or have any other questions, she can be reached via her website.