Dental Implants – Cherry Hill, NJ
Permanent Tooth Replacement Made Possible
Despite innovations in dentistry that lead to healthier smiles in most of the population, you're one of the 178 million Americans who are missing at least one tooth. There are plenty of ways to replace them, but traditional options like dentures and dental bridges have to be adjusted or replaced every few years. With dental implants, however, permanent tooth replacement is possible. By bringing back every part of a lost tooth, dental implants in Cherry Hill have the potential to last for several decades or even a lifetime! Contact our team at Meadvin Dental to schedule a dental implant consultation today!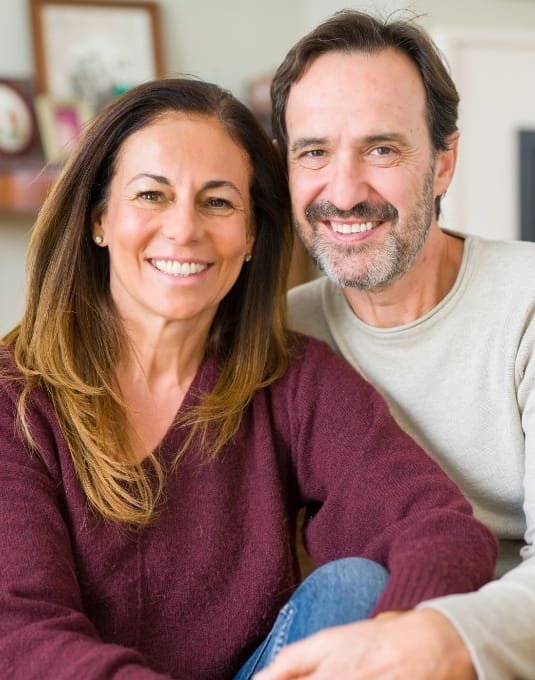 Why Choose Meadvin Dental for Dental Implants?
Partnered with Highly Skilled Dental Implant Specialists
Dental Insurance Accepted & In-House Savings Plan Available
We Treat Every Patient as Part of the Family
What Are Dental Implants?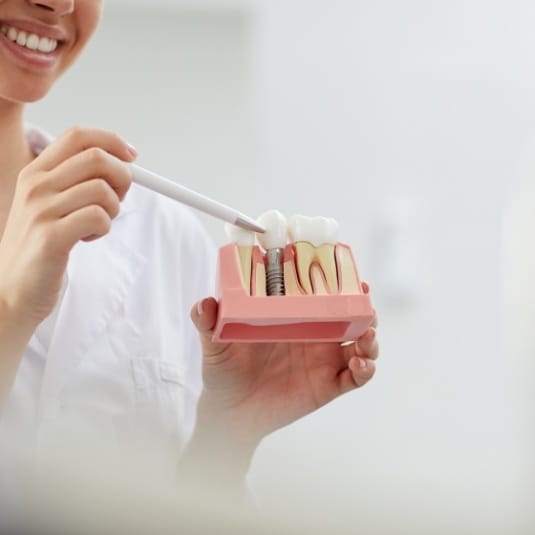 Dental implants are very small, thin posts that resemble screws. Most of the time, they're made out of titanium, which is a highly biocompatible metal. The main advantage of dental implants is that they fuse with the jawbone, which effectively makes them part of your body, just like the root structure of the teeth you used to have. This helps them look and feel incredibly natural because the dental crowns, bridges, and/or dentures that are secured on top of the implants via metal abutments have highly stable foundations to rest on. Their fusion to the jawbone also enables dental implants to have an average lifespan of 30+ years, compared to the five to ten years that traditional bridges and dentures typically last. For these reasons and more, dental implants are often Dr. Meadvin's first recommendation for patients looking to replace their missing teeth.
The Dental Implant Process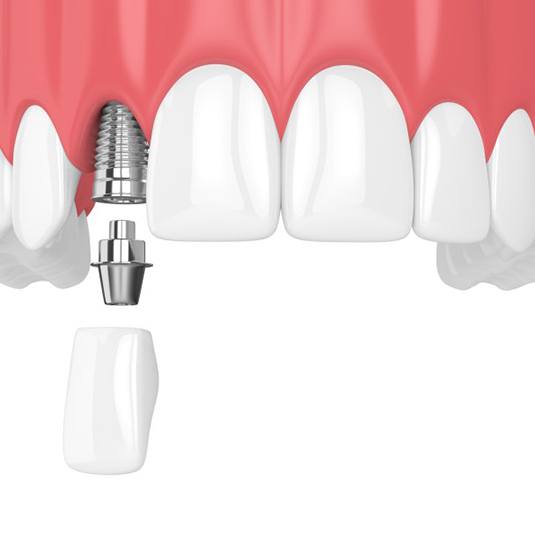 While replacing teeth with a dental bridge or denture might only take a few appointments, the dental implant process involves several steps. In fact, it can take six months, a year, or more until you can enjoy your new teeth to the fullest. However, you should know that while they take more time at first, dental implants' exponentially longer lifespan makes them well worth the wait!
To ensure that your treatment is as safe and successful as possible, Dr. Meadvin has partnered with some of Cherry Hill's most skilled and experienced dental implant specialists. You'll have a trusted expert to help you through the surgical phase of the process before you return to our practice for your customized restoration.
Benefits of Dental Implants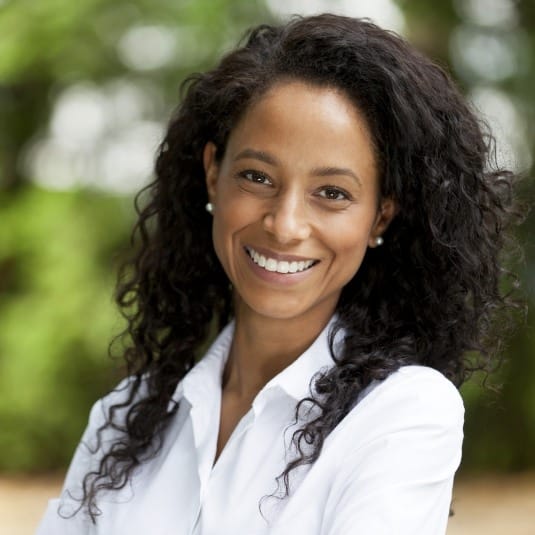 With all of the advantages that dental implants offer, it's no surprise that more than half a million of them are placed every year. Some of the benefits of dental implants to consider include:
Because dental implants replace the lost roots of your teeth, they look, feel, and function more like your natural smile, ensuring your complete confidence when speaking and smiling in any situation.
Implant posts mimic tooth roots, providing the necessary stimulation to maintain the volume of gum tissue and jawbone density. This ensures your face remains full and youthful, and you won't worry about the sunken, sagging appearance that impacts so many of those suffering from tooth loss.
Traditional dentures only restore about 20% of chewing function. An implant-supported denture will replace 70% or more of your chewing ability, allowing you to consume a wider range of healthier foods.
Once in place, an implant-supported restoration will remain functional for decades. In fact, implant-supported replacement teeth have 90 to 95% success rate after twenty years. That's compared with traditional dental restorations that need to be replaced every five to ten years.
Who Dental Implants Can Help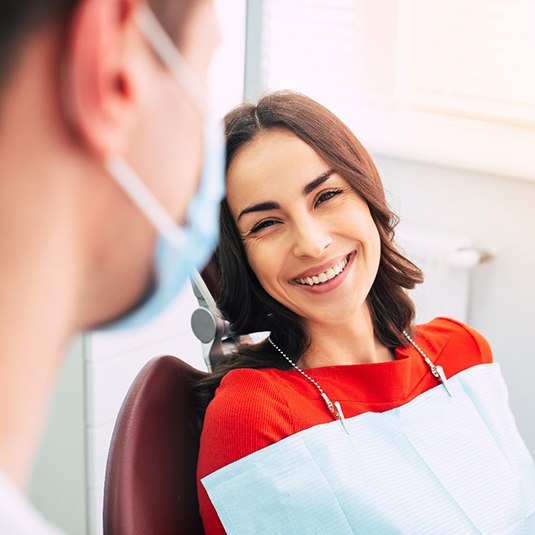 By replacing the roots of teeth instead of just crowns, dental implants can recreate any number of lost teeth no matter where they were located in the mouth. During a consultation, Dr. Meadvin will personalize a treatment plan for you based on the number of teeth you're missing.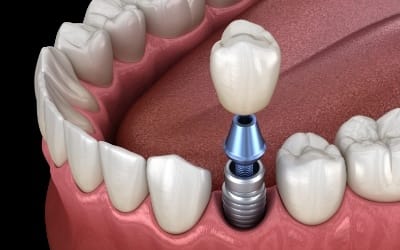 Missing One Tooth
To replace a single tooth, one implant post is positioned below the gumline, and a custom dental crown is attached to the implant.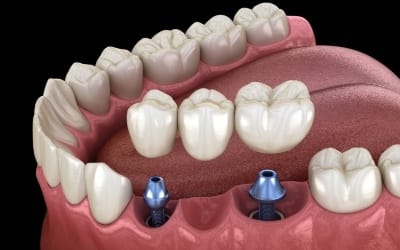 Missing Multiple Teeth
For two or more teeth in a row, we typically recommend anchoring a row of replacement teeth with a dental implant at either end for optimal support. To replace both consecutive and nonconsecutive teeth, an implant-supported partial denture may be used. Partials are typically secured onto two to four strategically positioned dental implant posts.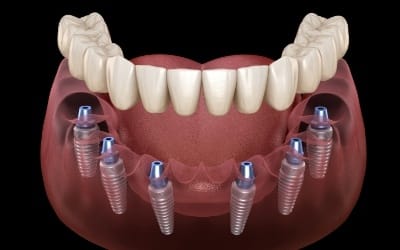 Missing All Teeth
A full denture can be attached to between four and six implant posts (depending on the size of patients' natural jawline and tooth replacement prosthetic). Compared to traditional dentures, implant dentures create a more natural restoration and provide superior comfort and stability.
Understanding the Cost of Dental Implants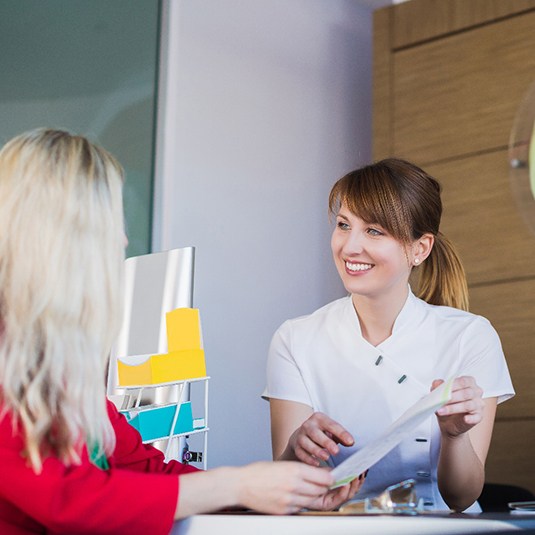 There is no set price for dental implants because the cost is determined by your individual treatment plan. The amount is broken into separate phases. During your consultation, we provide you with a customized estimate and discuss your payment options. Here are a few important things to know about the cost of dental implants.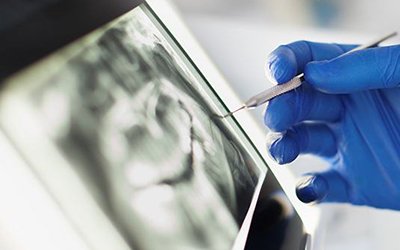 Consultation & Imaging
You'll need an initial consultation to ensure you are a candidate for dental implants. Besides a visual examination, you need to have X-rays and a CT scan. This allows us to assess your oral structures while pinpointing the correct placement of your posts. You need to pay the consultation fees and the cost of the images, which can range from $25 to $200.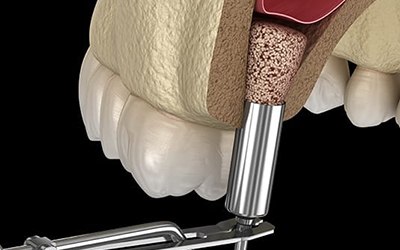 Additional Procedures
It is common to need additional procedures before placing your implant posts. Depending on the type of treatment you need, it will increase the cost. On average, you can expect to pay:
Bone Grafting: $250 to $1,100
Tooth Extractions: $75 to $650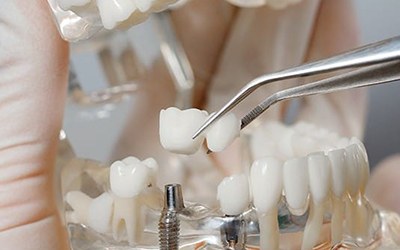 Dental Implant Placement
An oral surgeon surgically places titanium implant posts into your jawbone to act as new tooth roots. You will need to pay the surgeon's fees and the cost of sedation or anesthesia. The number of posts you need impacts the amount you pay for your new smile. Depending on the type of posts you use, you will pay:
Standard Implant Post: $1,000 to $2,000 each
Mini Implants: $300 to $900 each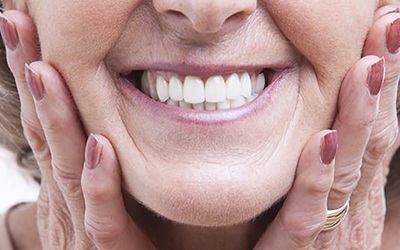 Dental Implant Restorations
The restoration phase of your treatment is often the most expensive. Besides the cost of your replacement teeth, you also need to pay for the abutments, which are $500 to $1,000 per fixture. The number of teeth you are replacing influences the cost of the restorations.
Single Unit Crown: $1,000 to $3,000
Implant-Supported Bridge: $6,000+
Implant Denture: $3,500 to $7,000+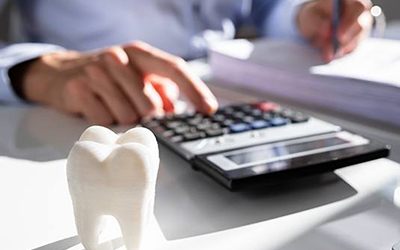 Options for Paying for Dental Implants
Don't let the cost of the treatment prevent you from completing your smile. There are several ways to keep your procedure affordable, like using your dental insurance. Although it will not pay the entire cost, it will cover certain aspects until you reach your annual limit, such as the CT scans, anesthesia, and restorations.
To cover any remaining balance, we accept a variety of payment options, including CareCredit. You are given the funds you need, which you repay using a plan that accommodates your budget.
Dental Implant FAQs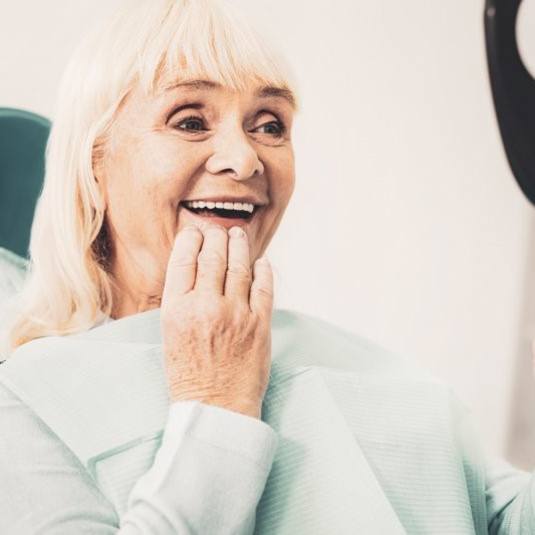 Dental implants in Cherry Hill truly are a tooth replacement option unlike any other, so it's natural to have a few questions about them. That's why we've gathered some of the most common inquiries we get about this state-of-the-art treatment below. If you don't see the answer that you're looking for below, don't hesitate to call us and we'll be more than happy to help!
How Do I Take Care of Dental Implants?
Taking care of your new dental implant is as easy as keeping the rest of your smile healthy. Unlike your natural teeth, it won't be susceptible to tooth decay. However, plaque and bacteria can still attack the gums and other tissues that keep your dental implant in place, so it's essential to practice excellent oral hygiene. Thankfully, your newly rebuilt smile won't require any special care. Simply continue to brush your teeth for two minutes twice a day, floss between your teeth daily, and rinse with mouthwash regularly to maintain great oral health and your new tooth.
How Long Will It Take for My Dental Implants to Heal?
To form a solid foundation in your mouth, your dental implant undergoes osseointegration. This process simply means that the titanium post that has been inserted into your jaw fuses with the bone tissue around it. Depending on your unique circumstances, it may take anywhere from four to six months before it's fully healed and ready for the restoration to be placed. While getting a dental implant takes more time than getting dentures or a fixed bridge, you can easily expect it to last for the rest of your life without needing to be repaired or replaced as long as you take care of it.
Can Dental Implants Fail?
Dental implants boast an overwhelming success rate of nearly 99%! However, failure is still a remote possibility. Factors like poor oral hygiene, smoking, and gum disease can drastically increase your risk of failure as well. This is because if bacteria accumulate and attack your jawbone and gum tissues, either while your dental implant is fusing with your jawbone or many years later, these structures can become damaged. Eventually, your dental implant can lose its grip in your smile and fall out. You can help keep it in place for a lifetime with a great daily dental routine, regular checkups with your Cherry Hill dentist, and quitting bad habits like smoking.
Are Dental Implants Worth the Cost?
Dental implants typically have a higher initial cost than that of other tooth replacement options like dentures or fixed dental bridges. These traditional treatments can quickly restore your complete set of pearly whites, but they aren't guaranteed to last. Over time, they'll become loose and uncomfortable, eventually needing to be replaced after five to 15 years. Not only is this inconvenient, but the cost can add up quickly. On the other hand, you can expect your dental implant to stay beautiful and functional for decades. What's more, since it promotes better oral health and doesn't put extra stress on the nearby teeth or gums, it saves you expenses related to issues like tooth decay and gum disease. The initial cost of dental implants is a worthwhile investment that can save you money in the long run.
Are you ready to schedule your dental implant consultation with Dr. Meadvin? Do you still have more questions about this state-of-the-art treatment? Give us a call today to start your journey towards regaining your complete, confident smile!