Cosmetic Dentistry – Cherry Hill, NJ
Creating a Dazzling Smile Just for You
If you don't love every aspect of your smile, maybe it's time for a change. Patients from Cherry Hill, Marlton, and other nearby communities can trust their smile to the skilled cosmetic dentist and team at Meadvin Dental. Our dentist has advanced training and years of experience offering a variety of popular cosmetic options from simple teeth whitening to more advanced smile makeovers. Don't live with a less than perfect smile. Contact us to schedule a cosmetic dentistry consultation today.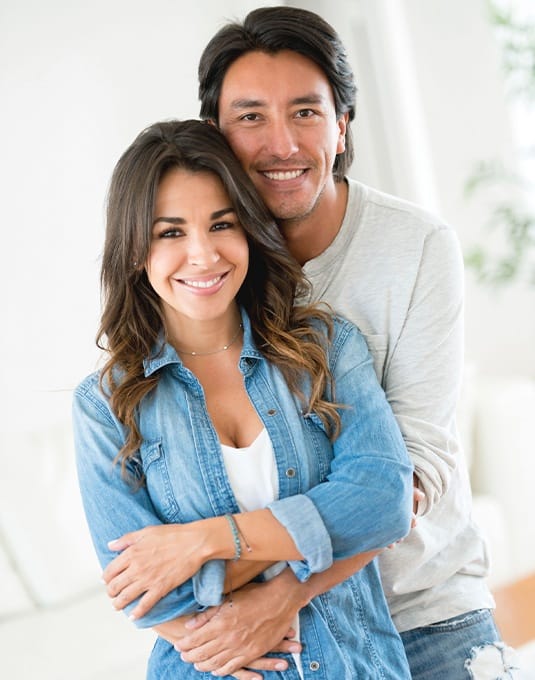 Why Choose Meadvin Dental for Cosmetic Dentistry?
Advanced Smile Design Technology
Reliable Tooth-Colored Materials
Patients Treated Like Our Family
Porcelain Veneers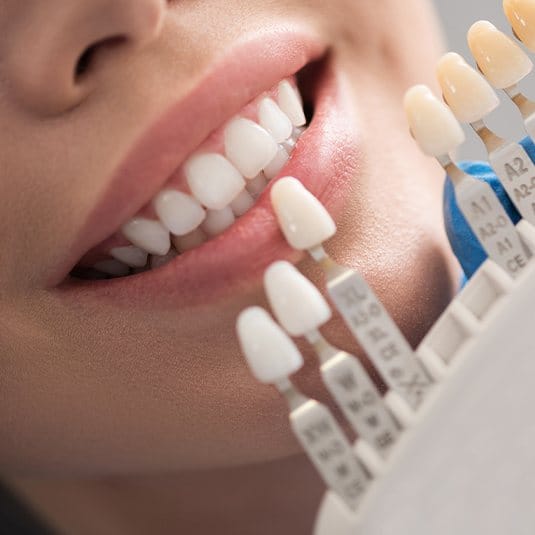 Veneers are thin sheaths of dental porcelain that fit over the fronts of teeth concealing any number of cosmetic irregularities. Whether patients have dental chips, cracks, stains, or gaps, porcelain veneers instantly transform their smiles. The process typically requires two appointments to complete. During an initial visit, we remove a small amount of tooth enamel to allow the veneer to blend seamlessly into the natural smile line. Then, we capture impressions that will be used by our dental lab to create the custom veneer, and finally, we place a temporary veneer to protect prepared dental structure. Once the final restoration arrives at our practice, patients return to exchange their temporary for the custom crafted porcelain veneer.
Metal-Free Restorations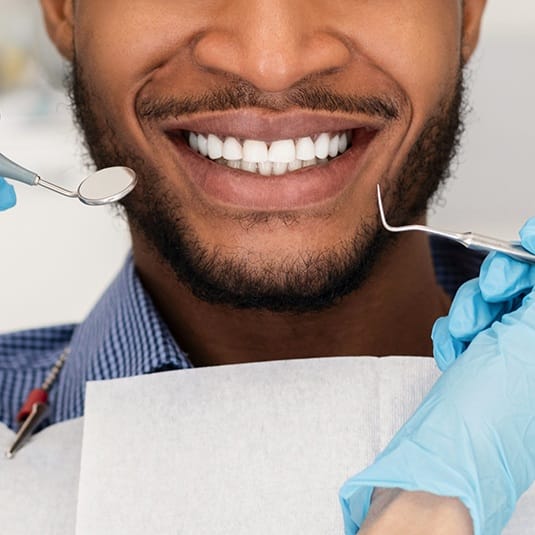 Blurring the line between cosmetic and restorative dentistry, metal-free restorations (crowns, bridges, inlays, onlays) offer patients a fully repaired tooth or bite that looks as good as it feels. For those patients who have allergies or sensitivities to metal, these all-ceramic materials are also preferable. Crafted from a single block of dental grade porcelain, metal-free restorations are much less likely to chip, crack, or break over time, and as they wear, the restorations maintain their natural appearance blending seamlessly into patients' smiles.
Cosmetic Bonding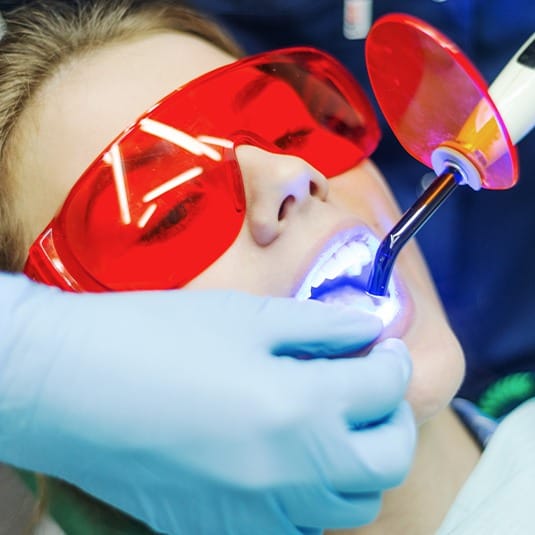 Are you looking for a quicker cosmetic solution for a minor issue? Cosmetic bonding is proof that sometimes the smallest changes can have a significant impact. Simply applying composite resin to specific areas of the tooth allows us to hide small cracks, gaps, stains, and other cosmetic flaws. The material itself can be carefully molded and shaded so that it blends in with the tooth's enamel. Unlike other cosmetic treatments, bonding can normally be completed over the course of one visit.
Teeth Whitening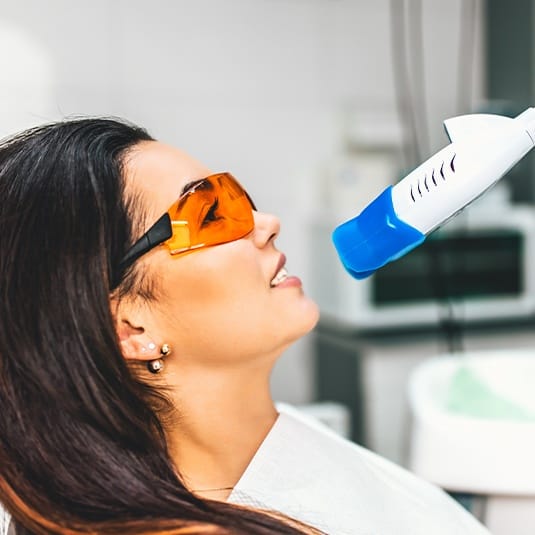 Teeth whitening is easily our most popular cosmetic dentistry solution. With the number of whitening toothpastes, mouth rinses, strips, and gels available in every grocery store, this likely comes as no surprise. However, unlike these store-bought products, professional whitening treatments are safe, comfortable, effective, and the results are much more predictable as patients are under the supervision of a professional from start to finish. We offer both in-office and take-home whitening products that brighten smiles up to ten shades.
Digital Imaging & Virtual Smile Design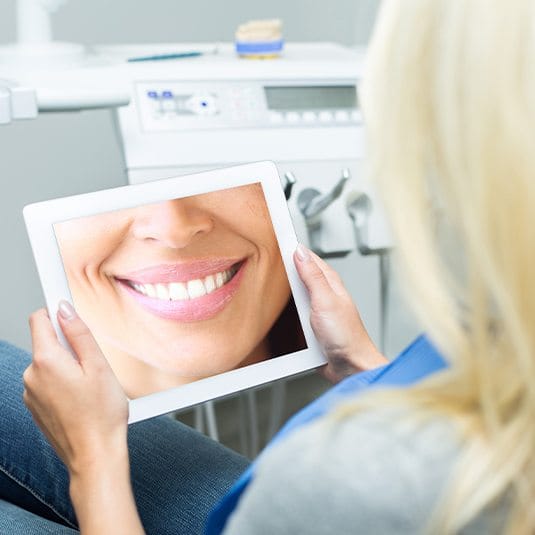 In order to help our patients determine the right treatment plan to meet their unique smile goals, we use digital images and virtual smile design software to allow them to see the potential results before we ever begin treatment. We take a series of photos of their smiles, create sample images of results, and give them the opportunity to ask questions, make changes, and feel 100% comfortable with their treatment plan. In fact, patients can even take copies of the images home to get feedback from friends and family members.
Cosmetic Dentistry FAQs
If you're unhappy with your smile, your cosmetic dentist in Cherry Hill can help. You have more options than ever to achieve a picture-perfect smile, but it's normal to have a few concerns before you're ready to commit to any treatments. We understand you're apprehensive, but there isn't any reason to worry. Here are the answers to a few of the most common questions our patients ask us about cosmetic dentistry.
How are professional whitening treatments different from OTC products?
If you've ever used an OTC whitening product, you were likely disappointed with the result. Although there are a variety of whitening systems on the market, none of them contain professional-grade whitening agents. As a result, it's unlikely they will produce noticeable or lasting improvement. Whitening systems from your dentist differ because they contain highly concentrated whitening agents. The specially formulated gel will deeply penetrate your enamel to get your teeth up to 8 shades brighter. Your results can last from a few months to several years, depending on how well you care for your smile, such as maintaining your oral hygiene. Overall, teeth whitening in Cherry Hill will deliver the results you deserve using safe, effective solutions.
Why are veneers so popular?
Many of your favorite celebrities and even some friends have used veneers in Cherry Hill to revamp their smiles. Veneers allow you to correct several issues at once to avoid needing multiple procedures. Not to mention, veneers are thinner than ever, so the procedure is less invasive and provides more natural-looking results. In as few as 2 appointments, you can treat discoloration, fix chipped teeth, or close gaps using a treatment that can last for a decade or longer with the correct care, like visiting your dentist regularly.
How long does cosmetic bonding last?
Many people choose cosmetic bonding in Cherry Hill because it is affordable and convenient. The composite resin material is durable to withstand the pressure of regular biting and chewing. On average, it lasts for about 5 to 10 years, but it's not uncommon for it to thrive for much longer. You can promote the lifespan of dental bonding by maintaining an excellent oral hygiene routine at home, visiting your dentist regularly, and avoiding anything that might damage your smile, like using your teeth as tools. If your bonding falls off over time, your dentist can quickly replace it to restore your stunning smile.
How do I know I'm making the right decision?
You wouldn't buy a car without driving it first. The same should be true for your smile. We know cosmetic dentistry is a big decision, but we're here to calm your nerves. We offer virtual smile design in Cherry Hill. After discussing your options and creating a treatment plan, you can see the exact improvements we will make to preview your new smile before even getting started. You can feel confident you'll achieve the exact results you want using the latest dental technology.