Root Canal Treatment – Cherry Hill, NJ
Need Help with Tooth Pain? Call Us Now
Pain is not always the same in every situation. For example, there's chronic and acute pain, throbbing or sharp and immediate or gradual. No matter what type of pain you're experiencing, your body is sending you a call for help. A toothache can run the gamut of descriptions, from mildly annoying—like when you have something stuck between two teeth—to severe. A painful toothache can keep you up at night or make it difficult to concentrate during the day. If this happens, call Dr. Meadvin's office right away. The problem may be an infected tooth, in which case root canal treatment in Cherry Hill will be necessary to remove the infection and preserve the tooth.
Why Choose Meadvin Dental for Root Canal Treatment?
Modern Office with Advanced Technology
Skilled Dentist with Years of Experience
Expertly Personalized Treatment Plans
What is a Root Canal?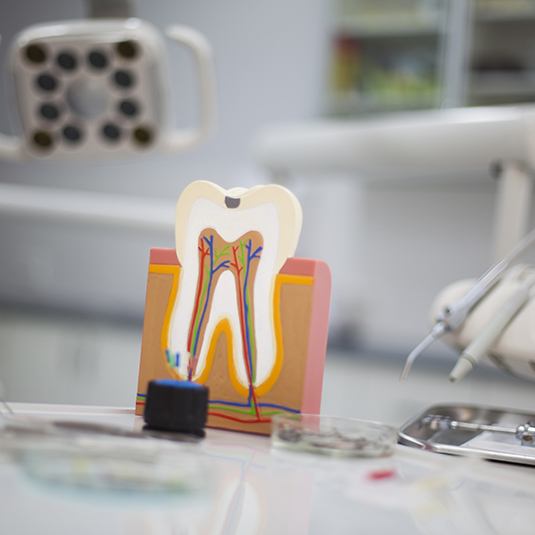 Also called endodontic treatment, a root canal is performed to remove infection from inside a tooth. Once the interior of the tooth as well as root canals are disinfected, your tooth is sealed and prepared for a porcelain crown that will protect the remaining tooth structure. After the local anesthetic has taken effect, a root canal usually requires no more than an hour to complete.
When is a Root Canal Necessary?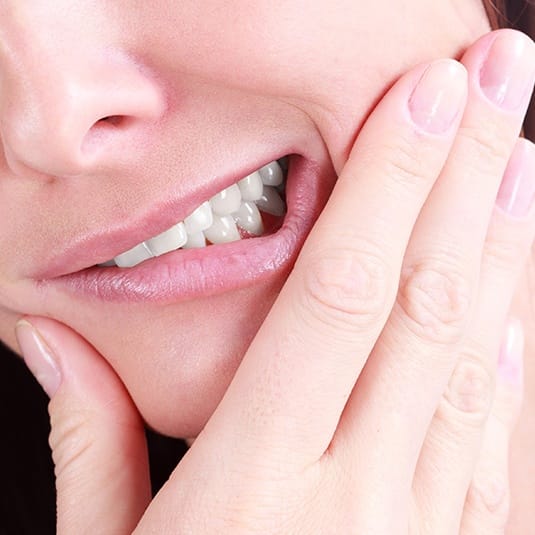 Normally the interior of a tooth is well guarded. However, in the case of severe decay or a deep crack, bacteria may access a tooth's nerve and cause infection. As the infection develops, there is inflammation, and this is what's so painful.
Other symptoms that indicate root canal treatment is needed include:
Sensitivity to hot or cold foods and beverages
A sore on your gums near the painful tooth
Swelling on the side of your face
Fever
Pain when you try to chew and bite
What is Root Canal Treatment Like?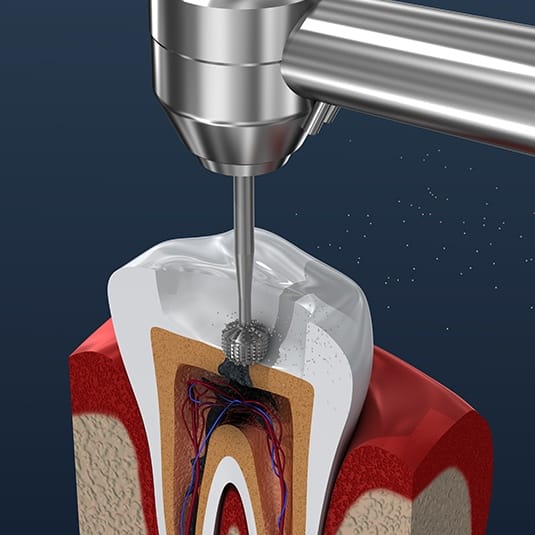 First of all, a root canal is not painful. On the contrary, a root canal eliminates the pain of an infected tooth. Dr. Meadvin anesthetizes the tooth and surrounding tissue. Then special instruments are inserted through a small hole to remove the infection and any accompanying debris. The space is disinfected and filled with gutta-percha, a biocompatible material. Finally, the tooth is tightly sealed to prevent recontamination and prepared to receive a porcelain crown.
What is the Recovery Like?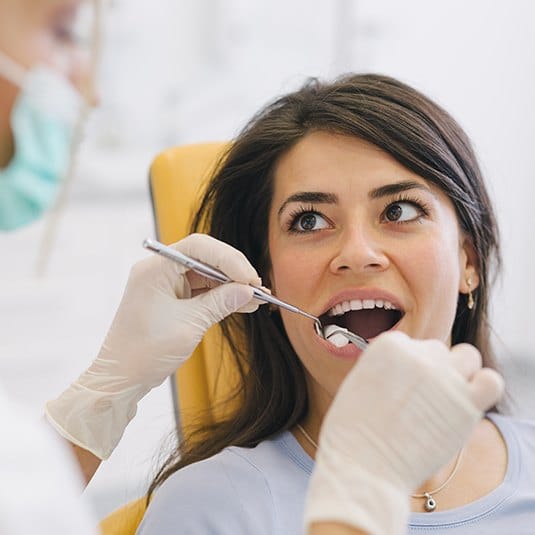 Dr. Meadvin may prescribe an antibiotic to make sure the infection is completely removed. Be sure to finish all of this medication.
For the first few days after root canal treatment, your tooth may be sensitive. You don't necessarily need to eat a soft diet, but you may want to chew on the opposite side of your mouth. You can brush as usual, but don't floss around the temporary crown that is protecting your tooth.
A few weeks after your root canal, you'll return to have the dentist in Cherry Hill attach the permanent crown that will support and protect the remaining tooth structure.
Root Canal FAQs
A root canal in Cherry Hill can save a damaged or infected tooth from needing to be removed. It's no secret the procedure has a bad reputation, but you don't have anything to fear. Modern advancements in dentistry make it virtually pain-free; however, it's normal to have a few concerns before you're ready to commit to the treatment. We'll explain everything during your initial consultation. While you wait for your visit, here are the answers to a few of the most common questions patients ask us about root canal therapy to ease any apprehensions.
Is it better to have my tooth extracted?
If you have a problematic tooth, extracting it will eliminate the issue at the source, but it opens the door to a long list of complications. Every tooth is vital to a healthy, functional smile. Removing even one increases your risk of cavities, gum disease, and additional tooth loss. In addition, you'll need to invest in a prosthetic to fill the space, which can get costly over the years. A root canal allows your tooth to remain in place to avoid the problems associated with tooth loss for a long-term, cost-effective solution.
Can I wait to have the procedure?
It is tempting to wait to see your emergency dentist in Cherry Hill to have your root canal procedure, but time is of the utmost importance. Even if you aren't in any pain, it's best to have your tooth treated immediately. Delaying root canal therapy will allow the infection to continue, ultimately leading to the loss of your tooth. We understand your time is valuable, which is why our office uses the latest technologies and techniques to restore the health of your tooth quickly, so you can get back to your daily responsibilities.
Is a root canal painful?
If you're like many people, you've probably heard a few horror stories about root canals. While they have a history of being painful, innovations in dentistry make them more comfortable. Our office uses effective anesthetics, modern dental instruments, and state-of-the-art technologies to cater to your comfort, so any pain will be minimal. It's normal for your tooth to be tender for a few days after your treatment, but any discomfort can be managed with an over-the-counter pain reliever until it subsides.
How much does a root canal cost?
There isn't a pre-determined fee for root canal therapy because the cost is based on various factors. We'll provide you with an estimate during your consultation and explain the costs associated with your treatment. Our office accepts several payment methods to keep your treatment affordable, like third-party financing. We'll help you find the solutions you need to rehabilitate your tooth without worrying about a large bill, like using your dental insurance. Although every policy is unique, many insurance plans can be used to offset the amount you need to pay out-of-pocket. We will work on your behalf with your dental insurance to maximize your policy to lower the amount you need to pay.