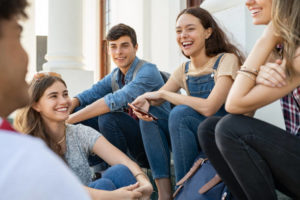 Unattractive teeth can affect a person's self-esteem, no matter their age. Teens struggle with embarrassment about their smiles, adding to the daily challenges of the teenage years. You can give your teen the confidence they need with cosmetic dentistry. Here are just a few procedures that can give your child a smile they'll be proud of.
Every Situation Differs
There are more treatment options than ever before to address common aesthetic flaws, like discoloration, chips, and gaps. Many cosmetic procedures are suitable for children and teens; however, other treatments might require them to wait until they have all their permanent teeth.
There's no way to know if your child's a candidate for cosmetic dentistry without first scheduling a consultation. Their dentist will examine their mouth and learn more about their concerns to determine the best strategy to improve their smile.
Possible Cosmetic Dental Procedures
Children and teens can benefit from a variety of elective services, including:
Metal-Free Restorations: All-ceramic materials can be used for dental crowns and other restorations. They look and feel like real teeth. Only a trained dental professional will know they are there. Metal-free restorations are biocompatible and can last for a decade or more with the correct care. Crowns can repair damaged teeth or protect a weakened tooth. They can also be used along with other procedures, like root canal therapy.
Cosmetic Bonding: A cosmetic resin can fix many minor flaws, like chipped or cracked teeth. The composite material is shaded to match the color of the enamel to look like part of the tooth structure. The procedure is minimally invasive and provides quick results.
Teeth Whitening: High school students can benefit from teeth whitening, but it's rarely used for young children. Teeth come in many shades and tones naturally, and they can change color, like after having braces removed. Teeth Whitening can get their pearly whites up to 8 shades brighter.
The Power of an Attractive Smile
Confidence isn't the only thing affected by an unattractive smile. The appearance of a person's teeth also influences first impressions. You can ensure your teen's smile sends the right message as they become an adult.
They will look their best and have the professional edge they need to succeed after graduating. Cosmetic dentistry can give your child a priceless gift to head into their future with their best foot forward.
About Dr. Jodi B. Meadvin
Dr. Meadvin earned her dental degree from the University of Pennsylvania, School of Medicine and regularly pursues continuing education in many specialties, including general and cosmetic dentistry. She strives for excellence and has memberships with several professional organizations, including the American Dental Association. Request an appointment through her website or call (856) 281-3437.