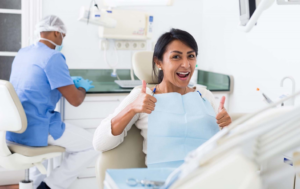 A dental crown is a versatile dental restoration that can significantly improve the strength, function, and aesthetics of a damaged or compromised tooth. But have you ever wondered how dentists prepare teeth for crowns? They aren't just merely placed on top of teeth—it's quite a meticulous process, requiring a great deal of skill and precision on your dentist's part, as well as a keen eye for detail. If you've been informed that you're going to need a dental crown, here's a little bit more about what you can expect when getting this treatment.
Preparing the Tooth
The journey to a dental crown begins with a thorough examination; this treatment is generally recommended for teeth with extensive decay, fractures, or following a root canal—it can even help teeth in need of cosmetic enhancement! Once your dentist has determined that a crown can assist the tooth in question, they'll need to do a few things to prepare it for its coronation.
Since the tooth in question must be prepared, which sometimes involves slightly reshaping it, the mouth is first numbed using a local anesthetic so that no pain or discomfort is felt. Next, any damaged or decayed areas of the tooth are carefully removed; this is crucial since these areas can cause issues for the health of the tooth, as well as the surrounding teeth and gums. The tooth is also cleaned and filled with a biocompatible material called gutta-percha, which also protects and future-proofs the tooth.
Taking the Impression
After your dentist has successfully reshaped your tooth, it's time for an impression of it to be taken; this part of the process is important because it ensures that your final restoration fits your new tooth perfectly and also looks natural. This information is used to create a precise mold of your mouth, that is then sent to a dental lab where your dental crown is custom-fabricated. While your permanent crown is being made, you'll receive a temporary one to protect your tooth and maintain your smile's functionality.
Receiving the Crown
After all of these preparatory steps, the tooth is finally ready to receive the crown. After returning to the dentist's office and having your temporary crown removed, your final restoration is placed. The crown's fit, bite alignment, and aesthetics are meticulously checked and adjusted as needed, and once you and your dentist are both satisfied, it's bonded to the tooth, and you're sent on your way with a fully restored tooth!
Dental crown preparation is a precise process that involves careful diagnosis and a little bit of artistry on your dentist's part—but you can rest assured that this journey ultimately leads to the restoration of your tooth and a brighter, healthier smile!
About the Author
Dr. Jodi B. Meadvin received her DMD from the University of Pennsylvania School of Medicine and has proudly served patients and families in the Cherry Hill, NJ community for several years. Her practice is thrilled to offer a wide range of services including restorative treatments such as dental crowns. If you have any questions about the blog or you'd like to schedule a visit for yourself or a loved one, feel free to contact her practice online or over the phone: (856) 281-3437.