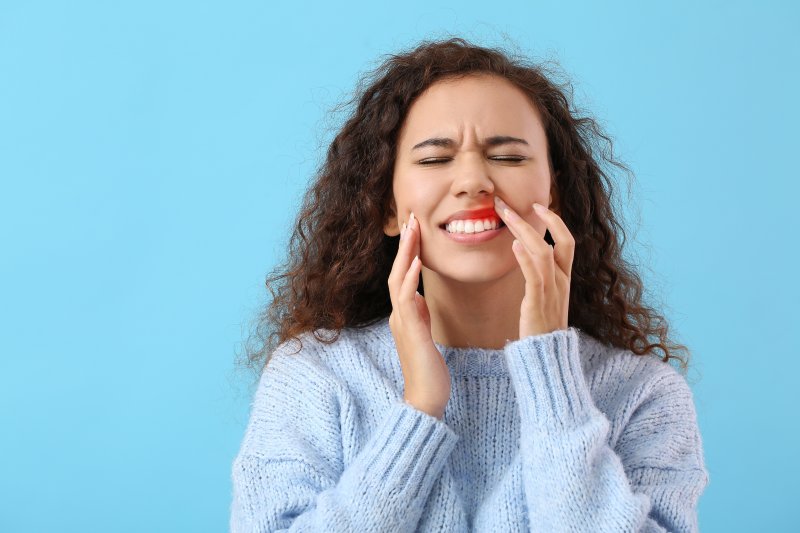 Have you recently started struggling with moderate to severe discomfort in your gums? If so, then you might be experiencing periodontal disease, which can be detrimental to your smile and overall health. Although you'll want to seek dental care from your dentist, there may be certain rumors about this condition that can prevent you from getting treatment. Read on to learn the truth behind the four most common gum disease myths!
Myth #1: It's Normal for Gums to Bleed
Have you ever noticed bleeding in your gums after brushing or flossing your teeth? While this might seem normal and typically harmless, it can also be a sign of gum inflammation due to periodontal disease. This infection is caused by bacteria and plaque buildup around the gum tissue, which can lead to irritation and swelling. If you notice bleeding occurring when brushing, flossing, or eating, be sure to consult your dentist, as this is not normal.
Myth #2: Gum Disease Is An Uncommon Condition
Many people believe that gum disease is a rare condition. However, roughly 47% of adults over 30 or older have some form of this infection as well as 50% of children on average. This makes periodontal disease much more common than you might imagine, which means you'll want to visit a dentist often to reduce your chances.
Myth #3: Periodontal Disease Isn't Too Serious
If you do have this infection, then you'll want to seek dental care as soon as possible. Not only can gum disease affect your pearly whites, but it can also put your overall health at risk of more serious issues. While it starts around your teeth, the harmful bacteria can become strong enough to escape into your bloodstream and reach more vital areas of your body, such as your lungs and heart. To avoid these complications as well as tooth loss, addressing the infection right away should be your main priority.
Myth #4: Damage from Gum Disease Is Permanent
Although gum disease can be detrimental to your oral and overall health if left unchecked, it doesn't mean the damage is irreversible. By treating the infection with antibiotics and removing plaque and tartar from your mouth, you can be sure to restore your smile to full health in no time. If the damage was severe, your dentist may offer tooth replacement solutions like dental implants to effectively rebuild your pearly whites from the roots up.
Now that you know the truth about gum disease, you can feel more confident about seeking dental treatment when noticing the early signs. Be sure to contact your dentist if you're experiencing any indications of infection, and they'll be more than happy to help!
About the Author
Dr. Jodi Meadvin is a proud member of the American and New Jersey Dental Associations and regularly seeks advanced training to refine her techniques. She studied at the University of Pennsylvania School of Medicine and has delivered outstanding care for over two decades. She offers a wide variety of high-quality services, including gum disease therapy, dental checkups/cleanings, and dental implants to maintain your dental health. If you'd like to request an appointment, visit her website or call 856-428-8822.