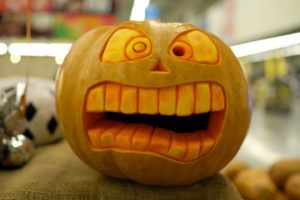 Many of us love feeling scared at this time of year. Even if you can't go to a haunted house this year, there are still plenty of horror movies to enjoy at home. These films don't give you anything tangible to fear, but do you know what you should be afraid of? Oral health problems. You would be surprised how many Americans currently have dental issues like cavities, gum disease, or even missing teeth. Because people eat so much candy around Halloween, you're more likely to become part of a frightening oral health statistic. To learn how to avoid this, read these oral health tips from a dentist in Cherry Hill.
Spooky Oral Health Stats and Facts
Here are some unsettling bits of information about oral health:
Almost 18% of children currently have at least one untreated cavity.
91% of adults ages 20-64 have tooth decay.
Almost half of adults older than 30 have some form of gum disease. That percentage increases to over 70% in adults over 65.
17% of children and almost 40% of adults haven't visited their dentist in the past year.
These facts might not seem that scary on their own. Sure, cavities can hurt, and missing teeth can make it harder to eat. But not fixing issues like these can have serious consequences in the future.
For instance, an untreated cavity can grow to reach the tooth's center. Because the nerve is there, this can cause a lot of pain, but that's not all. At this point, you might need a root canal or even a tooth extraction to keep the decay from spreading to the rest of your mouth. Both of these procedures usually cost quite a bit more than a filling does.
Additionally, oral health problems can beget other oral health problems. Gum disease and tooth decay can lead to tooth loss. When one tooth is missing, your jawbone is weakened, increasing your risk for further tooth loss.
For these reasons, it's best to prevent dental health issues by taking good care of your pearly whites.
How to Avoid Becoming Part of These Stats
Dental care is more about prevention than treatment. That's why it's best to be diligent about at-home oral hygiene and routine checkups with your dentist. You can prevent small problems like cavities from spiraling into issues that require costly and invasive procedures to treat.
Even though candy is abundant at this time of year, your teeth should be fine as long as you eat it in moderation. And remember to brush and floss afterward!
About the Author
Dr. Jodi Meadvin is a dentist in Cherry Hill, NJ with more than 20 years of experience in the dental field so far. She obtained her Doctor of Dental Medicine degree at the University of Pennsylvania School of Medicine. She keeps up to date on the newest innovations in dental technology through her memberships with the American Dental Association and the New Jersey Dental Association. To learn more about the importance of preventive dental care, you can contact Dr. Meadvin at 856-428-8822.