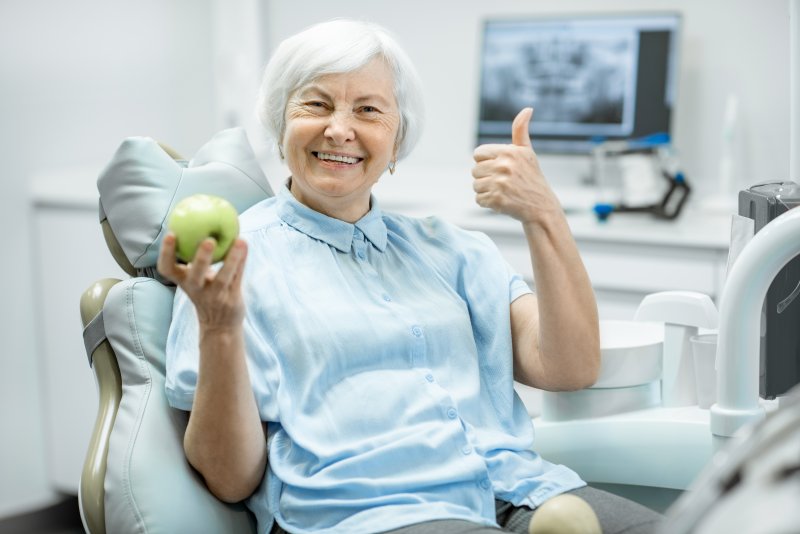 Did you know that 120 million Americans are missing at least one tooth? Plus, an additional 36 million U.S. adults are missing all their teeth. Fortunately, patients who fall into these statistics can opt for long-lasting, natural-looking dentures that seamlessly repair their smiles. However, it is important to know that this popular restorative treatment option may not improve your bite force. In fact, it could significantly reduce it. Therefore, a dentist in Cherry Hill is sharing the drawbacks of traditional dentures and why patients today are opting for implant-retained dentures instead!
3 Reasons Dentures Reduce Your Bite Force
Dentures rest on your gums for support – While your natural teeth get support from your jawbone, dentures rely on your gums. Naturally, it doesn't result in the same high level of force, which causes many patients to significantly modify the way they eat.
Dentures slip around – Have you ever moved furniture with socks on? That is what it's like to bite down with dentures. Instead of the food breaking down, the appliance slips and results in difficulty properly biting.
Dentures aren't solid – Your natural teeth are coated in a mineral called enamel, which is the hardest substance in the human body. On the other hand, dentures are composed of hard plastic, which can compress under immense pressure.
How Implant-Retained Dentures Can Help
Dental implants have helped over 3 million patients achieve a full smile and a strong bite. However, many potential candidates don't have an adequate amount of bone to qualify for this powerful restorative procedure. Fortunately, that's where implant-retained dentures come in! By using dental implants for support, which get their strength directly from the jawbone, patients can experience a significant increase in their bite force. Plus, implant-retained dentures rely on the places in the mouth where the bone density is higher, which allows more patients to successfully get the long-lasting, successful results they deserve.
If you have experienced a weak bite force since switching to dentures, it is time to talk to your dentist about implant-retained dentures. From there, you'll be one step closer to a strong bite and better quality of life!
About the Author
After completing her Doctor of Dental Medicine at the University of Pennsylvania School of Medicine, Dr. Jodi B. Meadvin earned her AEGD certificate at the University of Medicine and Dentistry of New Jersey. Over two decades later, she continues to keep her skills sharp by participating in countless continuing education courses and remaining an active member of multiple reputable organizations, including the American Dental Association. If you are interested in getting dental implants in Cherry Hill, visit her website or give her a call at 856-428-8822.