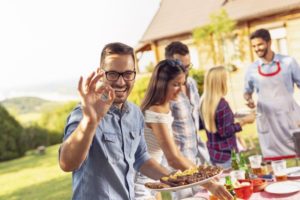 Are you ready to show off your beautiful smile thanks to dentures in Cherry Hill? These tried and true dental devices are an excellent way to quickly get back to enjoying a full set of pearly whites. Especially now that it's summer and the perfect season to enjoy warm weather, good company, and delicious backyard barbeque foods. Keep these five simple yet effective tips in mind to keep your new smile safe while you savor your favorite cookout treats.
Tip #1: Start Off Soft
In the first few weeks of wearing your new dentures, it's natural for your gums to feel a little sore. As your mouth adjusts, it's a good idea to stick to soft summer foods. Eating ice cream, smoothies, mashed potatoes, and applesauce are a delicious way to allow your gums to heal.
Tip #2: Don't Bite Off More Than You Can Chew
Trying to chew too much food at once with your dentures can put extra strain on your mouth and cause soreness. Now is a great time to remind yourself to slow down and taste all the scrumptious flavors as you eat. Cut your food into smaller pieces and chew carefully to relish your meal and protect your smile.
Tip #3: Watch Out for Hot Foods
Dentures can insulate your mouth and make it difficult to gauge temperatures until you're already eating or drinking it. Unfortunately, that means it can be all too easy to accidentally burn your tongue or gums with hot tea or ribs right off the grill if you're not careful. Take small bites or sips to test the temperature before indulging.
Tip #4: Cook Your Meats Properly
Grilled steaks, pork chops, and ribs may be delicious, but they can also take a significant amount of effort to chew. Instead, consider choosing tender, ground, or slow-cooked meats to put less stress on your new smile while enjoying the flavors of summer.
Tip #5: Stay Hydrated
Plaque and bacteria will naturally build up on your dentures throughout the day, especially if you snack on sugary or starchy snacks like bread, potato chips, or candies. To prevent these particles from accumulating and causing oral infections, drink plenty of water. Regularly sipping on water all day long is an excellent way to keep your dentures clean while staying hydrated.
If you're having a difficult time fully enjoying your summer because of your dentures, implant-retained dentures may be a better option for you. Dental implants in Cherry Hill are a great way to permanently and comfortably restore the lifelike look, feel, and function of your sunny smile.
About the Author
Whether you're missing one, several, or all your natural teeth, Dr. Jodi B. Meadvin can rebuild your smile with a variety of tooth replacement options. She has restored countless smiles in Cherry Hill, NJ and the surrounding communities with dental bridges, dentures, and dental implants. With regular checkups and the latest dental technology, she can help ensure that your new smile looks and feels its best for years to come. For more tips to enjoy summer with your dentures, feel free to reach out to her via her website or at (856) 428-8822.