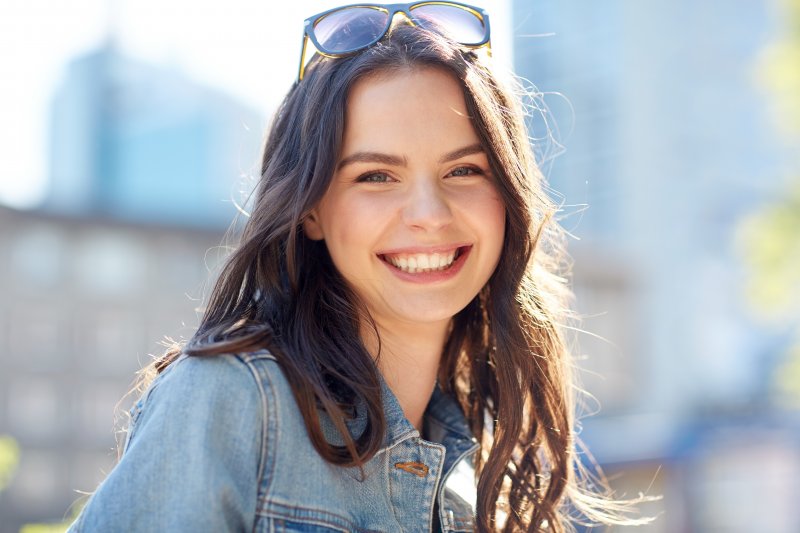 2020 is flying by, but summertime is far from over. Although your summer plans normally consist of afternoon barbeques, late-night ice cream runs, and plenty of time relaxing by the pool, it is also the perfect season to achieve your smile goals! If misaligned, crooked, or stained teeth are negatively impacting your self-esteem, then your dentist in Cherry Hill is here to share three reasons to make your smile your summer project.
At-Home Teeth-Whitening
When the summer sun is beating down on you, it can be tempting to reach for a refreshing glass of soda to relax and cool off. However, a few weeks later you may notice some unflattering stains and discoloration starting to surface. Fortunately, your dentist can help restore your beautiful, beaming smile with a professional teeth-whitening treatment from the comfort of your own home. By simply using a dentist-approved brightening gel, you can lighten your smile up to 10 shades in just one visit!
Picture-Perfect Smile with Veneers in Two Visits!
Did you know that you can achieve your dream smile in as little as two visits? Decades prior, patients had to undergo months (if not years!) of metal braces, crown placements, and other dental work to achieve their dream smile. Today, patients can obtain a straight, bright, and perfectly symmetrical smile all with veneers! During your initial visit, some of the enamel on your teeth will be removed and you will be given temporary veneers. At your second appointment, the custom, permanent veneers will be placed on your teeth. After that, you will walk out of your dentist's office with a seamless, natural smile that rivals those of the celebrities!
Post-Quarantine TLC
For many, the stay-at-home orders consisted of a lot of snacking without any visits to the dentist in sight. Now that the transition out of quarantine has begun, you may notice that your teeth need a little TLC to fix cracks or chips that have popped up over the last couple of months. Fortunately, your dentist can use restorative dentistry options (like crowns and bridges) to restore both your smile and your bite! That way, you can enjoy all of the fun activities summer has in store without worrying about imperfections in your smile.
With innovations in dental technology and modern techniques, there is no excuse not to have the smile of your dreams. In a few quick visits, your beautiful teeth will be turning heads for the rest of the summer and for many years to come!
About the Author
Since graduating from the University of Pennsylvania School of Dental Medicine, Dr. Jodi B. Meadvin has become a member of multiple prestigious organizations, including the American Dental Association. At her practice in Cherry Hill, Dr. Meadvin uses state-of-the-art dental technology and her extensive experience to provide each of her patients with world-class care that is second-to-none. If you would like to perfect your smile this summer, then visit her website or give her a call at 856-428-8822.