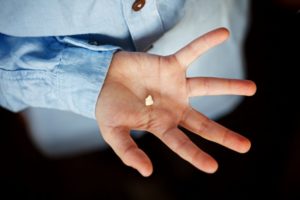 Most of us would prefer not to think about losing a permanent tooth. While there are plenty of ways to minimize the likelihood of dental emergencies, accidents still happen. Acting quickly and correctly in the event a permanent tooth gets knocked out can make all the difference in whether it can be saved or not. Read on as your Cherry Hill emergency dentist explains what steps you need to take if you find yourself or a loved one in this scary situation.
Step 1: Call Your Dentist
The first step in handling every dental emergency is to call your dentist as soon as it is safe to do so. Time is of the essence since the likelihood of successfully saving the tooth begins to diminish after and hour. Most dental practices have times reserved for dental emergencies and will often be able to make an appointment for you within a few hours. They'll also be able to give you detailed first aid guidance over the phone for your specific situation.
Step 2: Recover the Tooth
When retrieving your knocked-out tooth, be sure to only handle it by the crown (top). Be very careful to avoid touching the roots of your tooth. If it looks dirty, you can gently rinse it off with a little bit of water. However, don't scrub away any lingering tissues stuck on the root. When washing it off, don't prolong its contact with water or use any type of soap, as the cells on the tooth's roots may burst.
Step 3: Store the Tooth Somewhere Safe
Damaging a permanent tooth after its been knocked out will dramatically reduce its chances of being reattached. It needs to be kept moist in order to remain viable. The best place to store the lost tooth is back in its socket. Holding it by the crown, you may be able to insert the tooth back into position and gently bite down on it to keep it in place. Never force a tooth back into its socket, since this can cause more damage.
If returning it to the socket is impossible, another option is to hold it between your gums and cheek. You can also store it outside your mouth in a clean glass of milk. Milk contains the natural properties your tooth needs and can temporarily support it while the tooth is out of your mouth. If you don't have access to milk, fill up the container with saliva. Remember, don't store it in water since that will damage the roots.
Losing a permanent tooth can be an overwhelming experience. However, if you keep these three simple steps in mind and act quickly, you should be able to get back to enjoying your complete smile in no time!
About the Author
If you or a loved one experiences a dental emergency, our friendly and highly trained team at Meadvin Dental in Cherry Hill, NJ is here for you. Dr. Jodi B. Meadvin has outfitted her office with state-of-the-art technology and stays current on the most advanced dental techniques thanks to her memberships in associations like the American Dental Association. This allows her to treat whatever scary situation you're facing as quickly, comfortably, and effectively as possible. If you have a dental emergency, don't hesitate to contact her via her website or at (856) 428-8822.