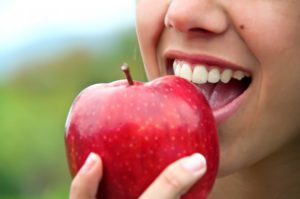 Many of us grew up having the phrase "brush and floss" drilled into our heads. While brushing and flossing are absolutely necessary to your oral health, there are plenty of other ways you can keep your teeth clean at home and decrease your risk of getting cavities. Read more as a dentist in Cherry Hill discusses five ways to keep your teeth fresh and clean at home.
1. Get Plenty of Fluoride
The next time you buy toothpaste, check the label to make sure it contains fluoride. This mineral, which occurs naturally in most water sources, has been proven to strengthen teeth, providing extra protection in the fight against cavities. Brushing your teeth twice a day with a fluoridated toothpaste should significantly decrease your risk of developing tooth decay.
Most tap water is also fortified with fluoride, while bottled water is typically not. Switching to drinking tap water will give your teeth an extra boost of cavity protection.
2. Rinse with Mouthwash
Many people brush and floss every day, but neglect to add mouthwash to their oral hygiene routine. Rinsing with an antibacterial mouthwash can clean areas of your mouth that your brush and floss simply can't reach. Start rinsing once a day after you brush and floss.
3. Avoid Tobacco
Smoking or even chewing tobacco can more than double your risk of gum disease, not to mention increasing your risk of developing potentially life-threatening oral cancer. In addition, it stains your teeth and worsens your breath. Nothing good comes from smoking. If you need help quitting, ask your dentist or doctor for resources.
4. Limit Sugary Snacks
When you eat or drink something sugary, bacteria in your mouth feed on sugar particles and leave behind an acidic waste product that destroys tooth enamel, which is what causes cavities. By keeping your consumption of sugary foods and beverages to a minimum, bacteria won't have enough fuel to create this destructive waste product.
5. Eat Fruits and Vegetables
When you remove highly processed sugars from your diet, it's a good idea to replace them with fresh fruits and raw vegetables. These natural products still contain sugar, but they're also chock-full of nutrients your teeth need to become stronger. Many of them can also freshen your breath!
As you can see, keeping your teeth clean involves more than just brushing and flossing. Your teeth will thank you to keep these tips in mind!
About the Author
Dr. Jodi Meadvin is a graduate of the University of Pennsylvania School of Dental Medicine. Her professional memberships include the American Student Dental Association, American Academy of Endodontics, American Dental Association, New Jersey Dental Association, and the Spear Education Study Group. She believes that preventive care is massively important as a part of maintaining excellent oral health, which includes following the tips described above. To learn more about how to take care of your mouth in between dental appointments, visit her website.