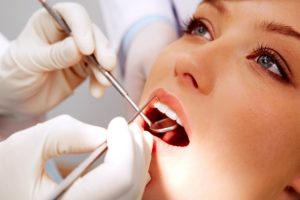 Believe it or not, 2020 is already underway. While you spend time creating goals for the new year, is a healthy smile at the top of your priority list? Your dental insurance was just reinstated, giving you the opportunity to visit your dentist for reduced rates. You can invest in a healthy smile with a checkup and dental cleaning in Cherry Hill. You'll get the comprehensive care you need without breaking the bank.
Power of Preventive Dentistry
You might think your toothbrush and floss are enough to keep your smile healthy, but they are only half the care you need. The American Dental Association also recommends you visit your dentist at least twice a year for a cleaning and dental checkup in Cherry Hill.
Your toothbrush can't reach everywhere in your mouth, allowing harmful tartar buildup to accumulate. The only way to remove it is with a professional dental cleaning. Your dental hygienist uses special dental tools to thoroughly clean your teeth. They will also take the time to discuss your current oral hygiene routine and make recommendations to make it more effective.
Besides a cleaning, you'll also need a checkup. This allows your dentist to monitor your oral health to detect concerning areas sooner. This treats the issue while it is still small to prevent it from worsening. Not only will you restore a healthy smile, but you'll also prevent the need for a costly treatment down the road.
Reduce Your Dental Expenses
Preventive dentistry is an investment in your smile because it keeps your teeth and gums healthy to reduce your overall dental expenses. In fact, research shows you can save as much as $50 on restorative and emergency services for every $1 spent on prevention.
Enjoy Affordable Dental Care
You can get the cleanings and checkups you need for minimal out-of-pocket expense because your dental insurance reset at the start of the new year. You have access to a comprehensive dental plan by paying your monthly premiums. Although every policy differs, most include 1-2 preventive appointments per year. You can visit your dentist regularly for only a small co-payment.
Besides preventive dentistry, your coverage can also be used to restore a healthy smile. After paying your annual deductible, you have access to a yearly limit to use toward restorative treatments. Most plans cover 50% to 80% of their cost until reaching your annual limit.
Invest in a Healthy Smile Today
Make sure a healthy smile is at the top of your priority list in 2020. Your dentist can help you create an effective plan to visit their office regularly for the preventive care your smile relies on. Don't miss your opportunity to reach your dental goals for discounted rates.
About Dr. Jodi B. Meadvin
Dr. Jodi B. Meadvin is dedicated to her patients to help them achieve healthy, beautiful smiles. She focuses on prevention while working with many leading insurance carriers to keep her services affordable. If it's time for your next cleaning and checkup, don't wait. Contact our office today for an appointment.