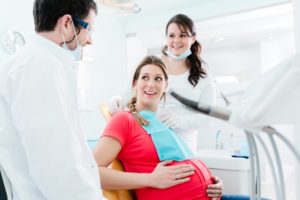 No matter what stage of life you're in, your smile needs special care. That includes during pregnancy. Fluctuating hormone levels can make oral care more complicated and difficult, but that doesn't mean it has to be impossible. If you're pregnant, it never hurts to go over this list of 5 common dental issues while pregnant to learn how to combat them and keep your smile healthy.
1. Pregnancy Gingivitis
Gum disease is already common enough among non-pregnant adults, but pregnancy multiples your chance of contracting it. If you notice any change in the color or texture of the soft tissues in your mouth, bleeding during brushing or flossing, or chronic bad breath that doesn't go away with improved dental hygiene, let your dentist know. They may prescribe an antimicrobial mouthwash to help remove the extra oral bacteria that are characteristic of gum disease.
2. Soft Tissue Cysts
These cysts can look frightening, and you may be worried about how it will affect the health of your little one. However, as long as these cysts are noncancerous and don't cause pain or inhibit your ability to talk or chew, your dentist will likely not want to remove them. They should clear up after you deliver, but if not, just let your dentist know.
3. Enamel Erosion Caused by Morning Sickness
While you're hunched over the toilet or trash can wondering whether you're going to keep down your bacon and eggs, the last thing you're probably thinking about is the state of your pearly whites. However, frequent vomiting can actually lead to enamel erosion and tooth decay. To prevent this, rinse your mouth out as soon as you can, and when possible, brush your teeth immediately following your morning sickness to stop the stomach acid from damaging your teeth.
4. Dry Mouth
Hormonal changes can lead to an inadequate supply of saliva in the mouth, also known as dry mouth. Saliva reduces plaque, so if you don't have enough, you're more at risk for gum disease and tooth decay. Counter dry mouth by drinking plenty of water and sucking on sugar-free hard candies or cough drops.
5. Sensitive Teeth
Gum disease, enamel erosion, and dry mouth can all contribute to dental sensitivity when the teeth are exposed to extreme temperatures. It helps to see a dentist to determine and treat the cause of your sensitivity. You can also use desensitizing toothpaste, which you can find at the store.
Pregnancy is already hard enough without having to suffer through dental issues. If you're pregnant, be sure to visit your dentist for more tips on how to manage your oral care to avoid these common issues.
About the Author
Dr. Jodi Meadvin completed her doctoral studies at the University of Pennsylvania's School of Dental Medicine. She has numerous professional affiliations, including the American Dental Association, the New Jersey Dental Association, and the Spear Education Study Group. For more tips on how to deal with dental issues while pregnant, you can contact Dr. Meadvin at (856) 428-8822.