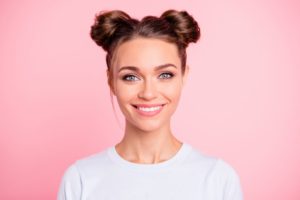 Summer might be drawing to a close, but that doesn't mean it's too late to get a gorgeous grin. Your dentist offers teeth whitening to make that smile of your shine no matter what time of year it is and boost your confidence. Read on to learn more about why you should get professional teeth whitening in Cherry Hill.
Why Do Teeth Need to Be Whitened?
Teeth can become stained for many reasons, such as:
Years of smoking
Consuming colorful foods and drinks like red wine, coffee, tea, or berries
Aging
Genetics
Certain medications
No matter the cause of your tooth discoloration, you could benefit from teeth whitening.
How Does Teeth Whitening Work?
Our teeth have an outer, whitish layer called enamel, and a yellowish layer underneath called dentin. As the enamel wears down due to age or oral hygiene habits, more of the dentin is revealed, causing teeth to appear yellow. The bleaching agent inside peroxide-based whitening gels travels through the enamel that is left in the tooth. White oxygen molecules in the gel break the bonds that hold stained molecules in the enamel together and spread around, causing the tooth color to brighten.
Why Should You Get Professional Teeth Whitening?
You can always buy whitening kits or toothpaste at the drugstore for cheap, but it's worth the investment to get professional treatment from your cosmetic dentist in Cherry Hill. Your smile will be many shades brighter than it could ever be otherwise, since your dentist has a bleaching agent that is several times stronger than any gel you could buy at the pharmacy.
Your dentist has two options for whitening: in-office or at-home treatment. If you would prefer quick results, you would simply come into the office and sit for an hour or so while wearing a very potent bleaching gel. Your smile will be up to 10 shades whiter in just one visit!
If you would rather achieve more gradual results on your own time, not to worry. Your dentist can fit you with custom trays to wear with the bleaching gel for a prescribed amount of time each day. You should see dazzling results after just a couple weeks. If you see stains begin to form again, just ask your dentist for enough gel for a touch-up.
How Do You Make Your Results Last?
To make your beautiful new grin last as long as possible, you'll want to take care of your teeth. this means daily brushing and flossing, seeing your dentist every six months, and no smoking. It also means avoiding foods and beverages that stain, such as:
Coffee
Tea
Red wine
Sports drinks
Berries
Sauces like tomato, soy, and curry
Summer might be almost over, but the right time to revamp your smile is never over. Contact your cosmetic dentist in Cherry Hill today to get started on beautifying your grin today.
About the Author
Dr. Jodi Meadvin earned her dental degree from the University of Pennsylvania School of Dental Medicine. She is a member of several professional organizations, including the American Dental Association and the Spear Education Study Group. She even served as president of the Southern Component of the New Jersey Dental Association. To get your smile to shine brighter this summer, contact Dr. Meadvin at (856)-428-8822.