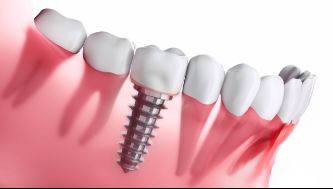 It goes without saying that tooth loss has a big impact on the estimated 178 millions of Americans who have experienced it. And, as if the loss of self-confidence isn't hard enough, not being able to enjoy your favorite foods might be even worse! Fortunately, dental implants in Cherry Hill are one of the best ways to restore both the appearance and function of your smile and help you move forward after tooth loss with your quality of life intact. Keep reading to find out why implants are better than any other option for helping you enjoy a wide variety of foods. You'll also get some great tips for maintaining your implants as long as possible!
Why Do Implants Allow You To Eat A Wider Variety of Foods?
Compared to traditional dentures, which only give you about 20% of your natural chewing strength, implants restore about 70%, which clearly makes them a superior choice. After all, it's not only about restoring your smile's appearance, but the way your teeth function as well.
But what accounts for the difference? Implants replace the roots of your teeth. This key difference dramatically improves the stability and strength of your implant and also stimulates the surrounding jawbone to maintain it over time (as opposed to the bone loss that occurs with traditional bridges and dentures).
What Kind of Foods Can You Eat With Dental Implants?
Here are just some of the foods you can enjoy with dental implants:
Steak
Corn on the cob
Popcorn
Nuts
Crunchy fruits and vegetables
Sticky foods like gummy bears
But, it's very important to keep in mind that the dental crown or bridge that's attached to your dental implant is still subject to the same wear-and-tear as other types of dental work, so you still want to eat these foods with relative caution!
How Can You Care For Your Implants Over the Long-Term?
With the right care and maintenance, dental implants in Cherry Hill will last decades (or even a lifetime). Here's how to care for your implant:
Regular dental care – Routine checkups allow a dentist to monitor the bone levels around your implants to make sure they remain healthy. They'll also be making sure that the implant's restoration (e.g. the crown, bridge or denture attached to it) is still functioning properly.
Good oral hygiene habits – It's true that an implant can't get a cavity. But, the gum tissue around it must be kept clean and healthy so it can provide the support the implant needs. The proper flossing technique is a little different around implants, so don't hesitate to ask a dentist or hygienist to give you a demonstration.
Use the right hygiene tools – Sometimes the right tools can make a big difference in how effective you are with your oral hygiene. There are several types dental picks, interdental brushes, and floss available, so experiment to find what works for you. Oral irrigators can also be helpful.
Once you get dental implants and experience the freedom they provide to eat what you want, you'll wonder why you didn't do it sooner!
About the Author
Dr. Jodi B. Meadvin is a general, cosmetic and restorative dentist in Cherry Hill who is committed to providing her community with outstanding dental care. She often recommends dental implants because she wants to help her patients restore their smile and also enjoy the foods they love after tooth loss. If you have any other questions about dental implants, she can be reached via her website or at (856) 428-8822.