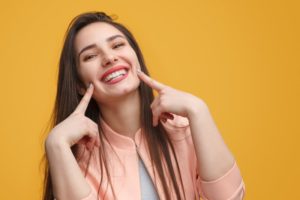 The holiday season is officially upon us! Do you know what that means? Fun events, special occasions with friends and family, but most of all, pictures. Everyone wants that perfect holiday photo this time of year, but it's hard to get it when you're not feeling confident about your smile. Thankfully, there are cosmetic services that can enhance your grin for the holidays. Read on to discover how cosmetic dentistry in Cherry Hill can transform your smile for the upcoming festivities.
What is Cosmetic Dentistry?
Many people have flaws in their smile that can affect their confidence and their oral health. Cosmetic dentistry offers services that can beautify and transform your smile. Do you have flaws like cracks, chips, stains, and gaps? Check out some of the most popular cosmetic services below to see how they can improve your pearly whites.
Teeth Whitening
The most popular cosmetic solution, teeth whitening offers patients dramatic results in a short amount of time. Dental grade whitening can whiten your teeth up to 10 shades whiter. This strength of whitening can't be found in over-the-counter products like strips or toothpaste.
Porcelain Veneers
Veneers, thin shells of dental porcelain that fit over the front surfaces of your teeth, can conceal a wide-range of flaws in your grin. Whether it's cracks, chips, or deep stains, veneers can easily transform your smile into a set of gleaming pearly whites. You and your dentist can decide your exact shade of veneer, and the best news is that dental porcelain doesn't stain! So, you can enjoy a bright white smile for years to come.
Metal-Free Dental Restorations
Metal-free restorations are amazing because they can repair damaged teeth, but they also make your smile look good too. Additionally, if you are allergic or sensitive to metal, these 100% ceramic materials can offer you a durable solution without putting metal in your mouth.
Digital Imaging and Virtual Smile Design
Are you having trouble deciding what cosmetic services you think you need? Your dentist in Cherry Hill offers a virtual smile design to show you how your grin can transform with some of the services mentioned above, before any dental work is done! Your dentist will develop a treatment plan specific to your smile, so you can achieve your exact desired results.
Does it sound like you could benefit from any of the above services this holiday season? Talk to your local dentist to get started on a gorgeous set of pearly whites.
Meet the Dentist
Dr. Jodi B. Meadvin enjoys boosting her patients' confidence through cosmetic dentistry. She likes seeing her patients' reactions when they see their new and transformed smile. To stay up-to-date on the latest in dentistry, she maintains membership in various organizations like the New Jersey Dental Association. She currently runs her own practice, and she can be contacted through her website or by phone at (856) 428-8822 for any questions you may have.