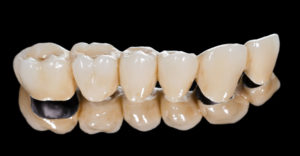 If you're missing teeth, then you know how much of an inconvenience it can be. It forces you to give up some of the foods you've always loved, to speak differently and to watch the integrity of your facial structure begin to fade. You often wonder, "Can this be fixed?" or "How can I regain the way of life I once had?" Your dentist weighs in with information on two routes available to restore your teeth – implants and dental bridges in Cherry Hill. Read on to learn more about them.
What are Dental Bridges?
A dental bridge can be used to replace several teeth missing consecutively in a row. It consists of tooth-colored porcelain fixtures that are affixed to a metal bracket that fastens to your surrounding teeth. One of the perks of this process is that the bridge is easy to remove and clean.
Take note, though, that bridges rest on top of your gums. Therefore, they can only provide minimal support for your jawbone to prevent bone loss and facial collapse.
Thankfully, there is another method to provide the much-needed stability to protect your jawbone.
How the Dental Implant Process Works
The most reliable and comprehensive form of restoration available today is the dental implant procedure. It involves your dentist surgically inserting titanium posts beneath your gumline that affix to your underlying bone. Over time, the biocompatible titanium posts fuse with your existing bone to form a solid foundation.
Using a connecting piece called an abutment, either implant-supported dentures, crowns or bridges can be attached to the new post. No matter which method is utilized, there is a common denominator – the function of all three applications hinges on the dental implant.
Here are some of the benefits of this procedure:
Better Looking Smile
Ability to Eat the Foods You Love
Support for Your Jawbone
Helps You Maintain a More Youthful Look
Allows You to Speak Clearly
Which Procedure is Best for You?
The best way to determine which form of restoration is best for you is to visit your dentist in Cherry Hill for a consultation. She will be able to determine whether you have enough healthy bone available to support the dental implant process. If your current mass is insufficient, then the dental bridge option may be better for you.
At the end of the day, as long as you take action, you will be much better off and will either prevent or slow down the bone degeneration that comes along with missing teeth for a prolonged period of time. Soon, you'll be back to living your life as normal!
About the Author
Dr. Jodi B. Meadvin earned her Doctor of Dental Medicine degree from the University of Pennsylvania School of Dental Medicine. Additionally, she has completed hours of continuing education courses and seminars dealing with advanced techniques in a variety of dental procedures. Dr. Meadvin helps patients regain the lives they once had at her private practice and can be reached for more information through her website.