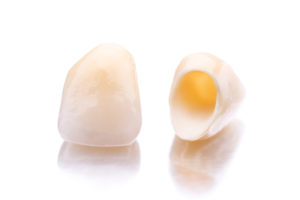 Has your dentist recently recommended that you receive dental crowns in Cheery Hill? You have nothing to fear. They are the single most common restorative treatment. They are often used when a tooth has suffered serious damage, such as due to decay or a break; however, they can also be used for cosmetic purposes as well. In some cases, they are even needed in combination with other procedures, like root canal therapy. No matter the reason why you need one, you can help to protect your crown from damage by caring for it properly.

What is a Dental Crown?
A dental crown is a custom-made cap that is placed over a tooth to restore its health or to protect it from additional damage. In some cases, it is used to make an unattractive tooth look better. Now, most crowns are made from an all-ceramic material, like porcelain. This allows them to be customized to match the color of your natural teeth to blend in seamlessly when you smile. With the right care, it will last for an average of 10 years before needing to be replaced.
How Do I Care for My Crown?
To promote the longevity of your crown, it is best to care for it properly. There are several things you can do at home to ensure that it lasts for as long as possible.
Brush and Floss
Although the crown is not subject to tooth decay, it is still important to take the time to brush and floss it. When flossing, pay extra attention when cleaning around the gum line to remove any plaque or bacteria that may be trapped near the edge of the crown. This will help to prevent bacteria from seeping in under it, which can cause it to fail.
Prevent Damage
Crowns are strong and durable, but they can break. As a result, it is best to avoid anything that may cause it to break. Do not chew overly hard foods with the tooth, like nuts or ice. It is also a good idea to avoid anything that is sticky, like gum or caramel. You should not use your teeth as tools, like to open packages, to prevent the crown from coming loose.
What Happens If It Breaks?
It is not uncommon for a crown to break or come loose as time goes on. If this happens, do not try to repair it on your own. Instead, keep your tooth clean and avoid placing pressure on it. Call your dentist in Cherry Hill to have it replaced.
Restore Your Smile Today!
A dental crown offers a long-term solution to restore the health and appearance of your tooth. Protect your investment by caring for it properly.
About Dr. Jodi B. Meadvin
Dr. Jodi B. Meadvin is supported by extensive qualifications and experience as a dentist to provide high-quality dental care. She offers the services necessary to keep your teeth and gums healthy. If you need a dental crown, she can restore your smile with the restoration you need. Contact Meadvin Dental today to schedule your consultation.