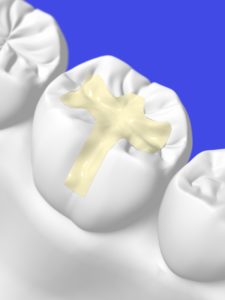 Years ago, when a person needed a filling, it was a given that he or she would end up with some shiny metal in his or her mouth giving notice to the world that a new filling had been added. As time would go on, though, dentists would be able to offer an alternative to the usual metal (amalgam) fillings and allow patients to blur the lines between restorative and cosmetic services. Learn more about the amazing new benefits of tooth-colored fillings as you continue reading.
What are Tooth-Colored Fillings?
Made from a composite resin material, tooth-colored fillings are applied directly to the affected areas, shaped and then hardened with a special curing light. The entire process can be completed in one visit.
What are the Problems with Amalgam Fillings?
The traditional method of using amalgam fillings has been discovered to have some negative effects on your teeth, including:
Chipping and cracking of teeth enamel – Because they are made of metal, amalgam fillings expand and contract based on the temperature, which can lead to problems for your enamel.
They eventually fail – Another issue with this application is that it will eventually fail due to the corrosion of the metal.
Can tarnish and stain your teeth – As the metal corrodes, it can be tarnished and discolor your teeth.
Don't bond well with your teeth – There is also a problem with the way the amalgams bond to your teeth. They can sometimes leave openings that can allow bacteria to enter the tooth and cause further decay.
May cause allergic reaction – Some people have allergic reactions to mercury, possibly causing rashes, itching or fatigue syndrome.
How Composite Resin Fillings Get It Right
Here are some of the advantages of composite resin fillings:
They match the color of your teeth.
They are stronger and more resistant to decay; thus, they last longer.
The material neither expands nor contracts.
Tooth-colored fillings bond directly to your teeth, which also provides a more stable fit.
How to Care for Your New Fillings
Here are some essential practices that will help sustain your tooth-colored fillings:
Brush and floss your teeth at least twice a day as a means of practicing excellent hygiene.
Use mouthwash to remove harmful leftover food and bacteria from your mouth.
Avoid foods that are high in sugar, so that you don't encourage the growth of new bacteria.
The overarching goal is always to achieve and maintain excellent oral health and function. With tooth-colored fillings you'll be able to do just that. So reach out to your local dentist to learn more about how you can enjoy the feeling of being restored.
About the Author
Dr. Judi B. Meadvin earned her Doctor of Dental Medicine degree from the University of Pennsylvania School of Dental Medicine. She then went on to complete her residency training at the University of Medicine and Dentistry of New Jersey. A member of several professional organizations, Dr. Meadvin practices at Meadvin Dental and can be reached for more information through her website.