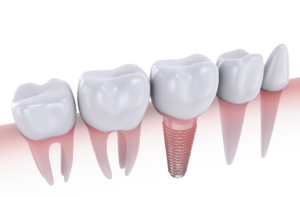 When you look in the mirror, are you tired of feeling insecure about the empty spaces in your smile? Maybe you miss eating your favorite foods, like steak, because they have become too difficult to chew? No matter the reason, you are ready to replace your missing teeth. You know that there are many different options to help you regain a complete smile; however, you have made the choice to invest in your quality of life with dental implants. You are making an excellent decision. Your dentist in Cherry Hill will fill the empty spaces to restore your confidence. Discover your options to fill the empty spaces.

Choose a Trusted Choice
Now, dental implants have become the most preferred and reliable solution to treat tooth loss, which is why more than 500,000 are placed each year. They are far different than any other type of tooth replacement option because they use dental implant posts, which are surgically placed into the jawbone.
This provides added security and stability that are not possible with other options, like dentures. Not to mention, it is the only choice that can preserve your bone density while offering the potential to last for a lifetime with the right aftercare.
No matter if you are missing one tooth or all your teeth, you can regain a complete smile with dental implants in Cherry Hill. After performing a consultation, your dentist will help to determine which type will best meet your needs.
Types of Dental Implants
Dental implants can be used to treat all cases of tooth loss if you are a candidate for the procedure. Depending on how many teeth are being replaced, your treatment process will vary slightly:
Single Tooth: The root and crown of a tooth can be replaced using a dental implant. A titanium biocompatible post is surgically placed into the jawbone, and an abutment is used to attach a custom-made crown. It will blend in seamlessly with your remaining teeth for a flawless smile.
Multiple Teeth: Several missing teeth in a row can be replaced using a custom-made implant bridge. Instead of using dental crowns to hold it in place, one or two dental implant posts are used. This provides security and stability to allow you to chew your favorite foods while providing your remaining natural teeth with the support they need to stay in place.
Full Arch: Complete tooth loss can also be treated with dental implants. A custom-made denture is developed, which is held in place using an average of four dental implant posts. You will not have to worry about any slipping, irritation, or messy adhesives as you regain a complete smile.
Invest in Your Smile Today
If you are ready to stop living with the challenges of tooth loss, it is time to see if dental implants are right for you.
About Dr. Jodi B. Meadvin
Dr. Jodi B. Meadvin provides comprehensive dental care to promote your oral health. In addition to general dentistry, she offers many areas of specialty care, including dental implants. If you are ready to restore your quality of life with a complete smile, contact Meadvin Dental today to schedule your consultation.