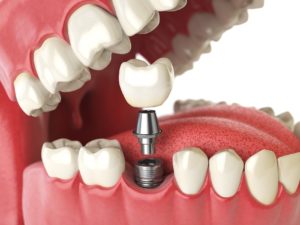 Do you suffer from tooth loss? If so, you probably miss eating your favorite foods and smiling with confidence. To fill the empty space, you may have tried dentures or a dental bridge, but they just did not feel natural and were a hassle. Now, you can get the best thing next to your natural teeth. Dental implants in Cherry Hill closely mimic the appearance and function of real teeth. They will last for a lifetime while offering over a 95% success rate so you can make an investment in your quality of life and oral health.

Benefit from the Most Preferred Solution
Dental implants are different than any other form of prosthetic teeth available because they replace the root and crown. They are composed of three parts: an implant post, an abutment, and a dental crown.
The implant post is surgically placed into the jawbone to replace the root. The bone fuses to it to create a secure foundation for the prosthetic tooth while also allowing it to stay in place forever. An abutment is attached to connect the dental crown to the post. It will look like a natural tooth as it is customized to meet your specific needs using all-ceramic material.
Improve Your Oral Health
Dental implants are the only form of tooth replacement to preserve your bone density. When you lose a tooth, your jawbone is no longer stimulated. Your remining natural teeth will lose their ability to stay in place over time. Eventually, this will lead to oral health complications and additional tooth loss. However, with dental implants, you preserve your bone density to protect your oral health.
Promote Your Quality of Life
When compared to other options to replace your missing teeth, you will have added security and confidence with dental implants. You never have to worry about them slipping or causing discomfort. They allow you to eat your favorite foods while speaking clearly because they are predictable and reliable. Not to mention, they are convenient because there are no special cleaning solutions or adhesives needed.
You make an investment with dental implants because you will not need adjustments or replacements like that of dentures or a bridge. With the right care, the implant post will last forever while the dental crown can last an average of 10 years or longer before needing replaced.
Restore Your Smile Today
If you are tired of living with tooth loss, you're asking, "where is an implant dentist near me?" Your dentist in Cherry Hill will determine if you are a candidate. No matter if you are missing one tooth or all your teeth, dental implants can help.
About Dr. Jodi B. Meadvin
Dr. Jodi Meadvin is a graduate of the University of Pennsylvania's School of Dental Medicine and completed additional training to provide advanced dental care for her patients, including dental implants. As a member of various dental organizations, including the American Academy of Endodontics, she has extensive knowledge in rehabilitating oral health. If you have questions about dental implants, contact Meadvin Dental to get the answers you need.