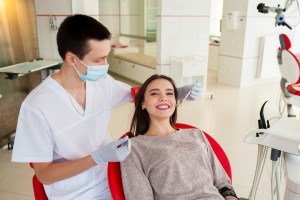 You take great care to ensure the health of your teeth and gums at home with proper oral hygiene habits. However, to protect your smile, brushing and flossing are not enough. You need to visit your dentist in Cherry Hill twice a year for a preventive appointment. With the right care at home and a cleaning and checkup every six months, you will nurture a healthy smile that will last for a lifetime.

Why Do I Need a Professional Cleaning?
All too often, it is believed that brushing twice a day and flossing daily eliminates the need for a professional cleaning; however, this is not true. Even with the best home habits, there are still areas in your mouth that you cannot reach, such as below the gum line. If they are not cleaned twice a year, plaque and tartar will accumulate, leading to gum disease.
Our dental hygienist uses special dental tools to clean these hard-to-reach places. In addition, we will discuss your home oral hygiene habits and may make recommendations to help you make the most of your efforts.
Why Do I Need a Checkup?
Often, it is believed that you do not need dental care until after a problem has developed, but this is not true either. Dentistry is about preventing issues from occurring in the first place, which is why you need a checkup with your Cherry Hill dentist twice a year.
Dr. Jodi Meadvin will conduct a visual examination of your mouth to look for any areas of concern. This involves more than just checking the teeth and gums. Dr. Meadvin will also look for any abnormalities to the tongue, throat, and other oral areas to ensure there are no complications. Your neck, throat, and jaw are also evaluated to look for potential complications, such as a TMJ disorder.
Digital images are taken to gain a full picture into your dental health by looking at areas that are below the surface. This allows us to monitor your teeth and gums to detect potential areas of concern sooner. With prompt treatment, your oral health is rehabilitated while also reducing your need for costly or invasive treatments in the future.
After performing the examination, Dr. Meadvin may recommend certain preventive treatments, such as a fluoride varnish or dental sealants to help reduce the risk for tooth decay. If you have any factors that could potentially cause problems, such as medications that cause dry mouth, Dr. Meadvin will create a proactive plan to help protect your teeth and gums from damage.
Where is a Dentist Near Me for Preventive Care?
If it has been more than 6 months since the last time you had a cleaning and checkup, it is time to call Meadvin Dental. Dr. Meadvin offers the comprehensive and tailored approach you need to protect your dental health. Together, we will help you reach your goals to maintain a healthy, beautiful smile that will last for a lifetime. Contact our office today to schedule your preventive appointment.